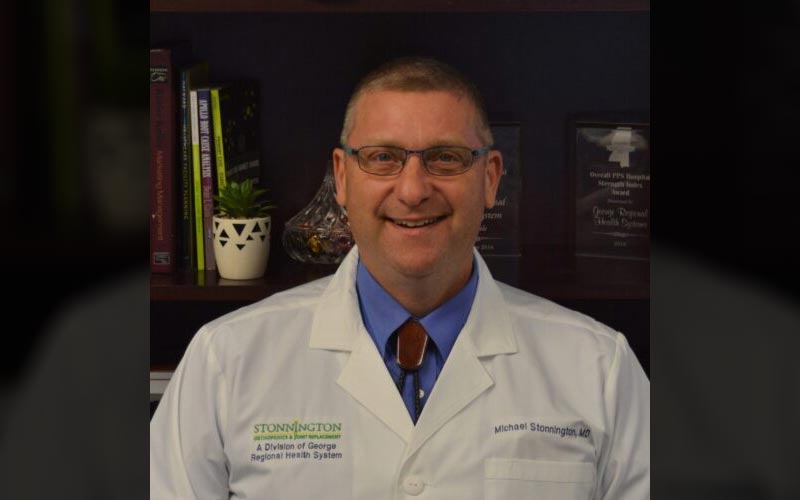 Monday, July 20, 2020
Michael Stonnington, M.D., Orthopedic Surgeon, in affiliation with George Regional Health System, is opening a new orthopedic practice in the George Regional Specialty Center (57 Dewey Street). Dr. Stonnington, along with Nurse Practitioner Kelley DeBar, will begin seeing patients on August 3rd.
Michael Stonnington, M.D., received his BA with a distinction in Archaeology from the University of Virginia. He then received his medical degree from Duke University while serving in the United States Air Force Reserve. He attained his residency in Orthopedic Surgery at the University of Florida.  After completing his training, he served on active duty as an Orthopedic Surgeon at Keesler Air Force Base.
"While serving in my final years in the Air Force Reserve, I began a private practice career as a partner of Southern Bone and Joint Specialists in Hattiesburg, MS," Stonnington said.  He was also a Founder of the Orthopedic Trauma Service at Forrest General Hospital in Hattiesburg and
served as Chief of Staff (twice) and Department of Surgery Chairman. Dr. Stonnington was inducted into the Doctors' Hall of Fame by the Forrest General Healthcare Foundation in April 2018.  He also received the Dr. Philip W. Rogers Quality Award for Leadership at Forrest General Hospital in December 2019.
Over the last twenty years, he has been one of the busiest and most experienced joint replacement surgeons in Mississippi. He is very experienced in robotic joint replacements utilizing Stryker Makoplasty Robotics.  Furthermore, he is trained in minimally invasive, muscle-sparing, total hip arthroplasties. In addition to being skilled in primary joint replacements, he is an accomplished and experienced revision joint replacement surgeon.  He is also one of only a handful of Orthopedic Surgeons in Mississippi who is proficient in pelvic and acetabular fracture repairs/reconstructions.
"Dr. Stonnington's extensive surgical experience will be a great asset to the residents of our community. We are fortunate to have him join our team," states Greg Havard, CEO, George Regional Health System.
Dr. Stonnington and his wife Katie, have three children and own a successful beef farm in Perkinston—Stonnington Farm Beef. "Stonnington Farm is a sustainable family farm that produces 100% Grass-fed Beef under the 'Farm to Table' model" Stonnington explains.
Dr. Stonnington is passionate about the plight of family farmers and has lobbied congress on farming issues with the Pew Charitable Trust in Washington, DC.  All of his children have grown up cattle farming.  He and his wife believe no better ethic can be taught than the work ethics of farming.
"I am honored and privileged to serve South Mississippi and look forward to serving the George County community," Stonnington adds.